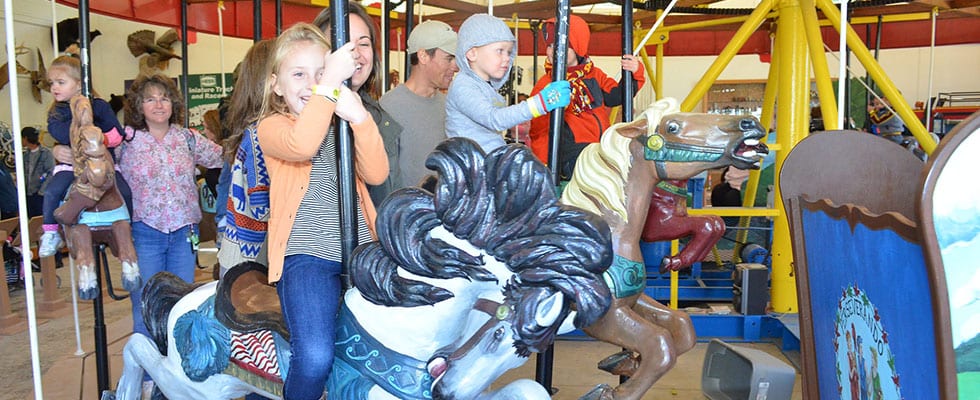 Carousel History
The carousel was purchased from the Onancock Fire Department at Auction in the spring of 2007 and the horses were refurbished in 2008 to serve as an educational homage to the state of Virginia.
Fully operational, work continues as other parts of the carousel and the building are finished to complement the Virginia theme.   This carousel is a combination of 3 individual carousels made in the 40's and 50's by Alan Herschell.
The original horses were made of wood and were considered so valuable that  they were sold to make money to keep the  carousel running.  The 30 horses now on the  carousel are cast aluminum and were reproductions made in the early 70's.
The Pretty Ponies
Each horse is painted to represent a famous Virginian or industry.  Painstakingly research was done in order to create accurate, detailed paintings that represent events of historical significance or events in the life of the featured person.
The Virginians featured cover a broad spectrum of our state's talent.  From presidents and civil war heroes to singers, statesmen and authors;  you might be surprised at some of the famous people who call Virginia their  birthplace.
What's a Rounding Board?
The rounding board is the panel that surrounds the top of the carousel.  There are twelve sections, each showcasing two places in Virginia of interest.  Chosen for historical and economic interest, you'll see paintings of Arlington National Cemetery, the Dismal Swamp, and 22 other buildings and locations throughout the state of Virginia.
Meet the Artist
Britney Mongold grew up in Fulks Run, Virginia.  She graduated from Broadway High School and studied art at Hollins College.  She became a member of the Back Home-on the Farm team during its first year and was instrumental in developing new educational exhibits and displays. She decided to pursue her dream of performing in the theatre and currently is a student at the National Academy of Dramatic Arts in Washington, DC.
When refurbishing of the carousel began in January of 2008, local artist Britney Mongold researched the Virginians to be featured, designed and painted each horse.  It is estimated that over 50 hours was involved in restoring each horse.  In 2009 she spent her time researching and completing the 24 locations in Virginia that are featured on the rounding board.
As a last detail to the carousel, Britney  completed the medallions atop the rounding boards.  Native Virginia wildflowers are represented here.