Spring, Fall & Christmas Teas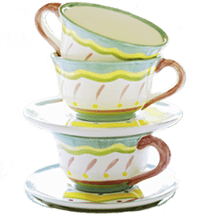 An aging Duchess is rumored to have started the custom of afternoon tea in the early 19th century in Great Britain. The hours were long between breakfast and dinner, the only meals of the day then. She started the tradition by having a pot of tea and light snacks privately in her boudoir in the afternoon. Later friends joined her and she laid out quite a sumptuous fare.
English hostesses copied the Duchess — and now, the tea time custom has been embraced by Back Home-on the Farm. And we've added a delightful country twist with a nod to our heritage here in Virginia and the Shenandoah Valley.
Step back in time …
Start a new tradition this year with a Country Tea celebration in a unique setting! Our menu focuses on locally-sourced products, some grown on our farm! Our artisan fare is fresh, homemade, and delightful.

It's not about just a cuppa tea!
Here's a sampling of our Sweets & Savories:
Fresh Fruit Compote, Cucumber Sandwiches, Swiss Bacon Quiche, BLT Canapés with Garnish. Blueberry Basil Scones with an assortment of Jams & Butter, Mini Cherry Cheesecakes, Decadent Chocolate Fudge, Lemon Bars, Mini Vanilla Cupcakes … and, of course … assorted Black, herbal and iced Teas!

We host Country Teas all year long!
Themed teas are presented monthly throughout the year at Back Home-on the Farm. From fanciful teas for children to elegant teas for the Red Hat set — we like to have the opportunity to introduce the custom of "taking tea" to everyone. Watch our Tea Calendar for the newest events! Reservations required and you can make them online.