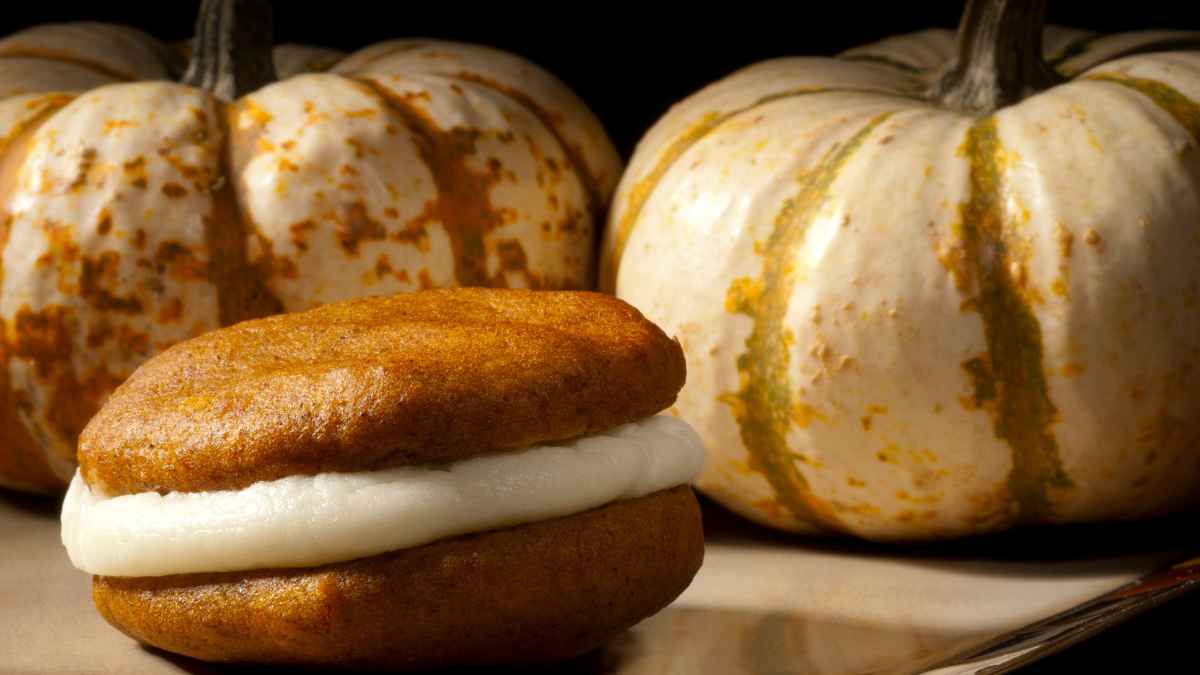 Try This Decadent Fall Treat!
As the leaves begin to turn and the crisp autumn breeze fills the air, it's time to indulge in the comforting flavors of fall. What better way to celebrate the season than with Pumpkin Whoopie Pies? These delightful sandwich cookies combine the warmth of pumpkin with the tangy goodness of cream cheese frosting. Whether you're a pumpkin enthusiast or simply seeking a scrumptious treat, these whoopie pies are sure to become a family favorite. Let's dive into how to create these irresistible pumpkin delights!
What Are Whoopie Pies? Whoopie pies are a delightful dessert originating from the Northeastern United States. They consist of two soft, cake-like cookies that sandwich a luscious layer of frosting. The result is a portable, hand-held treat that's as fun to make as it is to eat!
You Will Need:
2 cups all-purpose flour
1 teaspoon baking powder
1/2 teaspoon baking soda
1/2 teaspoon salt
1 teaspoon ground cinnamon
1/2 teaspoon ground ginger
1/4 teaspoon ground cloves
2 large eggs
1 cup brown sugar (packed)
1/2 cup canola oil (or vegetable oil)
1 cup pumpkin puree (not pumpkin pie filling)
Cream Cheese Filling:
8 oz cream cheese (softened)
1/4 cup unsalted butter (softened)
2 cups powdered sugar
1 teaspoon vanilla extract
Instructions:
1. Preparing the Pumpkin Cookies:
Preheat your oven to 350°F (175°C) and line baking sheets with parchment paper.
In a medium bowl, whisk together the flour, baking powder, baking soda, salt, cinnamon, ginger, and cloves.
In a separate large bowl, beat the eggs until well combined. Add in the brown sugar, canola oil, and pumpkin puree. Mix until smooth.
Gradually incorporate the dry ingredients into the wet mixture, stirring until fully combined.
Using a cookie scoop or spoon, drop rounds of batter onto the prepared baking sheets, leaving about 2 inches of space between each.
Bake in the preheated oven for about 11 minutes or until the cookies are set and slightly springy to the touch.
Once baked, remove from the oven and allow the cookies to cool on a wire rack.
2. Making the Cream Cheese Filling:
In a standing mixer, combine the softened cream cheese and butter until smooth and creamy.
Gradually add in the powdered sugar, mixing on low speed until well incorporated.
Stir in the vanilla extract, ensuring the filling is well combined and velvety.
3. Assembling the Pumpkin Whoopie Pies:
Match up pairs of cookies that are similar in size and shape.
Using a piping bag or a spoon, place a generous dollop of the cream cheese filling onto the flat side of one cookie in each pair.
Gently press the flat side of the second cookie onto the cream cheese filling to create a sandwich.
Repeat this process for all the cookie pairs.
4. Storing and Freezing:
To enjoy your Pumpkin Whoopie Pies within a couple of days, store them in an airtight container at room temperature. For longer storage, keep them in the refrigerator for up to a week.
To freeze, wrap each whoopie pie tightly in plastic wrap and then in aluminum foil. Frozen whoopie pies can be enjoyed for several months. Thaw in the refrigerator overnight before indulging.
Make sure you stop by the Country Store while you're here at the farm to try one of our delicious Whoopie Pies. Visit our blog for more tasty recipes!