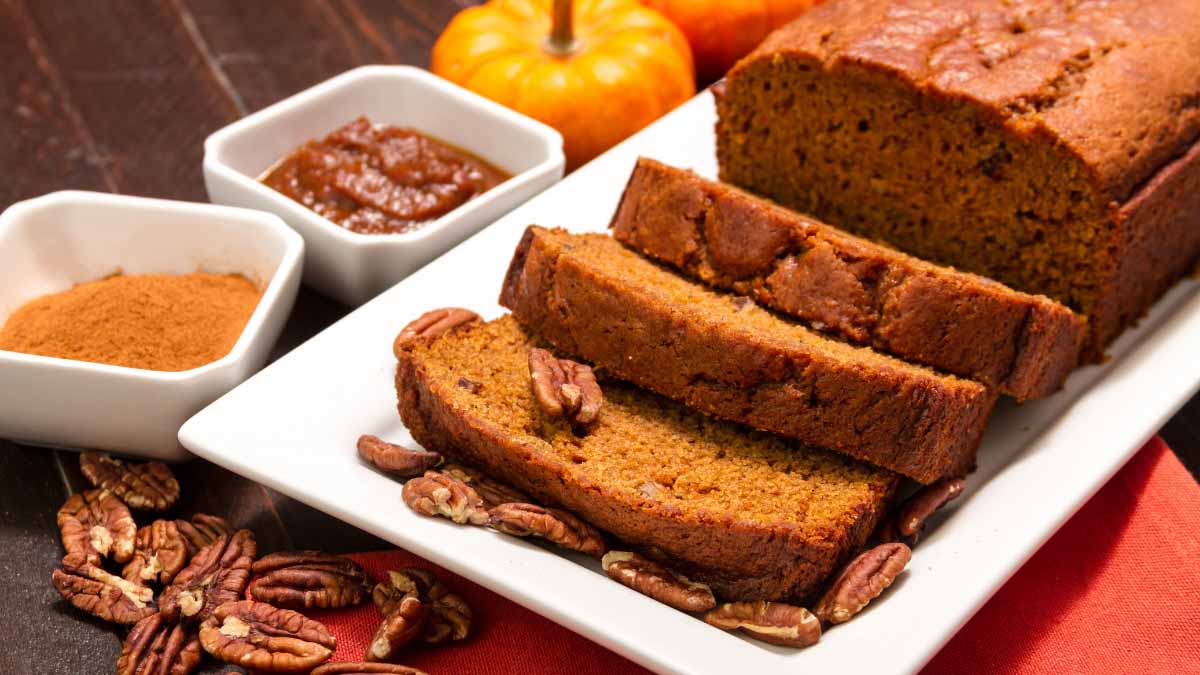 'Tis the season for sugar and spice and everything PUMPKIN! We have some wonderful baking pumpkins here at the farm perfect for making scrumptious treats such as this delectable pumpkin bread. 
You'll need:
3 1/2 cups all-purpose flour

2 tsp baking soda

1 1/2 tsp salt

2 tsp cinnamon

2 tsp nutmeg

1/8 tsp ground mace spice

1/8 tsp allspice

1/4 tsp ginger

3 cups sugar

4 eggs, beaten

2 cups of fresh pumpkin or 16 oz of canned pumpkin

1/2 cup water if pumpkin is fresh or frozen OR 2/3 cup water if pumpkin is canned

1 cup vegetable oil

1 cup chopped pecans (optional)
To make:
Preheat oven to 350°F. In a large mixing bowl, combine the flour, baking soda, salt, spices and sugar. In another large bowl, combine eggs, water, oil and pumpkin. Stir the mixture until blended. Next, combine the wet and dry ingredients. Add nuts (optional) and mix well. 
Lightly grease the bottoms of two 9×5″ loaf pans and pour in the batter. Bake for one hour. Insert a toothpick in the middle of the bread. If the toothpick comes out clean, the bread is done. Cool slightly and take out of the pans to cool completely on a rack. Enjoy!
Enjoy corny Fall family fun in the country with 7-acre pumpkin patch, more than 40+ attractions and activities … and lots of good things to eat!