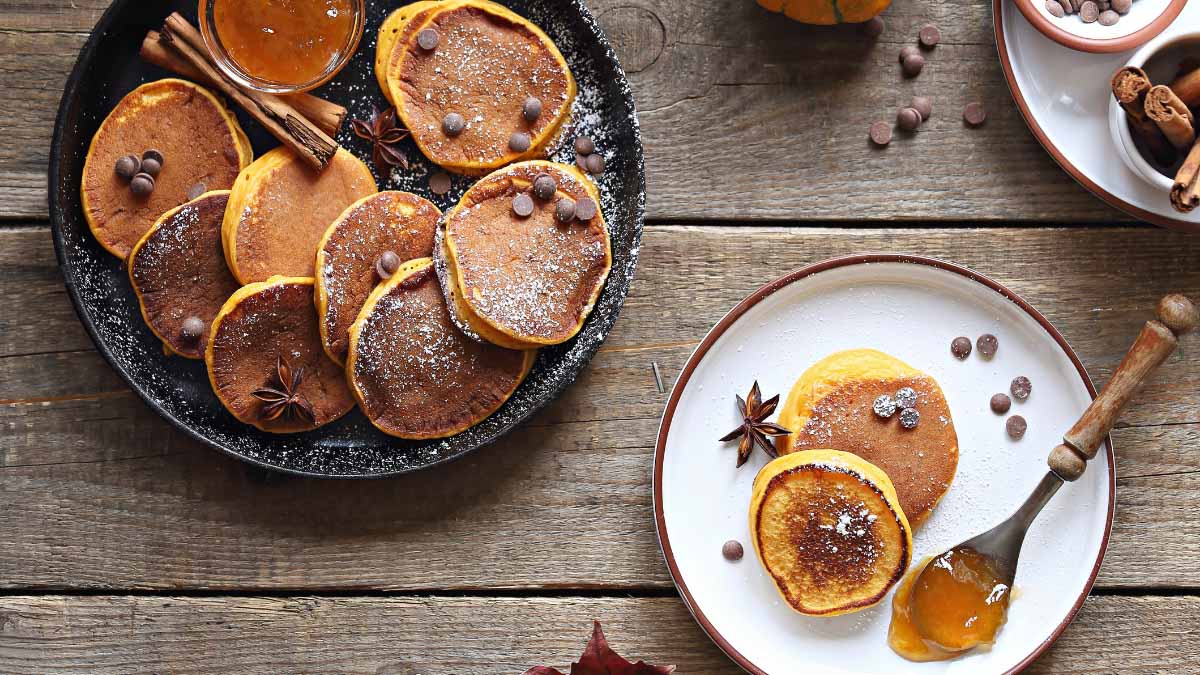 Combine the decadence of chocolate with the savory flavor or pumpkin with these delicious Fall pancakes.
You'll need:
2 cups flour

1 tbsp baking powder

1/2 tsp baking soda

1 tsp cinnamon

1/2 tsp ground ginger

1/4 tsp nutmeg

1/2 tsp salt

1 1/2 cups buttermilk

3/4 cup pumpkin puree

2 eggs

4 tbsp browned butter or melted butter

1 tbsp maple syrup

2 tsp vanilla

1 cup semi-sweet chocolate chips
To make:
In a large bowl, combine the flour, baking powder, baking soda, cinnamon, ginger, nutmeg, and salt. In a small bowl, whisk together buttermilk, pumpkin, eggs, butter, maple syrup and vanilla.
Pour the wet ingredients into the dry ingredients and mix the batter until just combined. Batter will be a bit lumpy. Stir in the chocolate chips. Cover the batter and set aside for 10 minutes.
Heat a large skillet or griddle over medium heat and add butter, or spray with cooking spray. Pour 1/4 cup pancake batter on the center of the hot pan and gently spread batter to form a circle. Cook until bubbles appear on the surface. Using a spatula, flip the pancake over and cook the other side for a minute, or until golden. Repeat with the remaining batter.
Serve with maple syrup if desired.
Enjoy corny Fall family fun in the country with 7-acre pumpkin patch, more than 40+ attractions and activities … and lots of good things to eat!