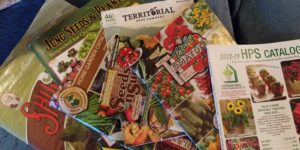 If you're a gardener, plans for lush beautiful gardens are dancing in your head. The Seed catalogs are filling the mailbox! I love this time of year as I try to decide what to plant around the farm. Actually, our catalogs for the greenhouse arrived back in June and July as we decided what plants to grow for this year and make our orders. But the thrill is back as I try to decide what new seeds to bring in.
Out here at the farm, we've got a few new projects in the works. We trialed a few tomatoes (and ate a lot!) and cucumbers that would grow in our greenhouses and taste like the garden grown varieties. We've dedicated a greenhouse this year to give it all a try so we'll keep you up to date on our newest endeavor.
But for now, I'm just like you, making lists and more lists and then orders for seeds that will grow in the greenhouse, in our garden, and the flowerbeds at the farm. I love my "Totally Tomatoes" catalog but most of my greenhouse seeds comes from HPS. If you're looking for a specific kind of seed or plants you'd like us to grow, just give us a shout. We'll be glad to see if we can track them down for you!