Fall is aMAZEing at the farm!
We have new activities in the works, events on the calendar and new items on our menu!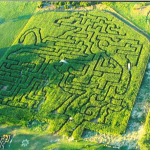 The Corn is a-MAZE-ing!
We're to be Harrisonburg and Rockingham County's original corn maze!  We have a new design every year and this year we celebrate 10 years of corny farm fun.  Watch our Corn Maze page for special announcements about some great maze games and awesome prizes this year as part of our anniversary celebration!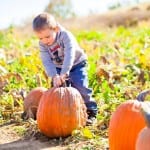 Pumpkin Patch!
Pick your own pumpkin from our 7+ acre patch — and because it's a little farther down the holler from the rest of the activities, treat yourself to a hayride (handicap accessible) that will drop you off in the pumpkins!  We grow about 40different varieties, chosen especially because they make great jack-o-lanterns, they were pretty, or just too unusual to pass up!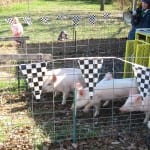 Pig Races at Squealer Downs!
Our racing pigs put on a show every day — check the posted racing schedule so you don't miss them.  Choose your favorite pig to "root" for and enjoy the antics of our BossHog announcer and sidekick cousin, Cletus. There's no end to this corny jokes in this performance ! Our porkers race for the fun of it, and a cookie, of course.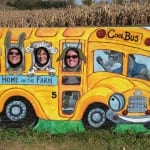 Barnyard Fun!
Our barnyard play area boasts a delightful Sound Garden for sprouting musicians of all ages and sizes!  Meet Molly – the Milk Cow, take a ride on our Pedal Tractors,  or try your hand at the Rubber Ducky Races!  We even have a Lavender Maze for you to wander through.  And don't forget the slingshots!  They're one of our favorite activities! But our #1 activity on the farm?  Don't miss the 60 ft. underground slide – you'll want to do it over… and over…. and over!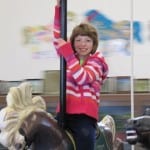 Ride the Carousel!
There's only one Virginia Carousel!  Located in it's own building at Back Home-on the Farm, this thirty horse merry-go-round has been lovingly restored and painted to  feature famous Virginians, Virginia products, places and landscape. A 1942 Allen Herschell carousel, this merry-go-round used to travel from town to town delighting children in the day.