Here's an idea that doesn't require a lot of time to decorate a few small pumpkins.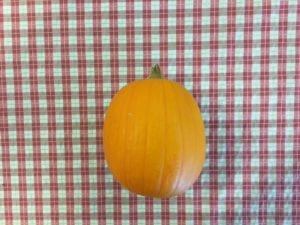 Start with a small pumpkin. Look for one that is blemish free and firm. We like to look for unique or unusual stems. Wash well and rinse in a solution of 1 part Chlorox to 10 parts water.  This solution helps kill any bacteria on the surface of the pumpkin that could cause it to decay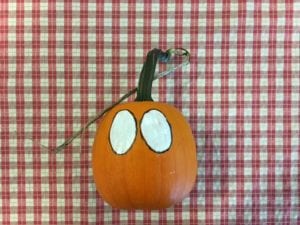 We like to start with the eyes and any type of craft paint will do.  White usually takes two coats to cover. If you've got a steady hand, highlight the eyes with black paint or use a magic marker.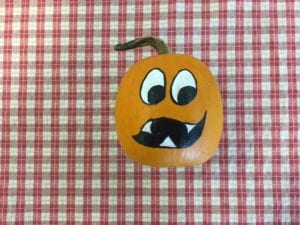 Black paint can be used for all the features, but we find little ones like to use magic markers. You can use any of the colors. Small white Boo pumpkins can be decorated just using a black magic marker – do several! they make great table decorations!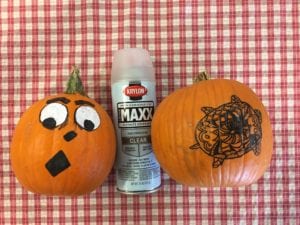 It's important to seal your artwork.  You can use any type of clear acrylic spray.  If you don't seal the pumpkin, the paint will eventually peel off. It's only necessary to cover the painted area, not the whole pumpkin.  Here's the secret. If you have used a marker, spray the pumpkin very lightly to cover your artwork. When that coat has dried (only takes a few seconds), repeat the process to complete the sealing process.  Spraying the marker art with too much acrylic will cause it to run and you'll have a mighty sad pumpkin!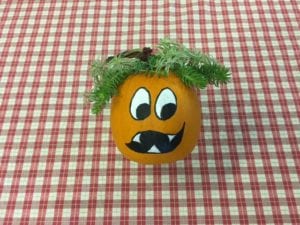 Looking for a little different finish to your pumpkin? Glue any type of succulents to the top to make hair. We used some droopy sedums on this one – but wouldn't the more upright plants that might be in your yard make an awesome troll?