I've added Duck Whisperer to my list of job titles here on the farm after last night's escape of one of the ducklings as they ran to their swimming pool. These new additions to the farm this summer have been quite the experience.  Thanks to Jane Blackburn for snapping some pictures last week whens she visited with her girls.  Jane noticed that one of the eggs was moving in the nest and as I picked it up for a closer look, the top popped off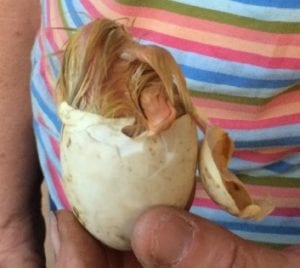 All we could see was a beak buried in some stringy wet feathers.  It wasn't long, however, a little wiggle, and then that egg shell just exploded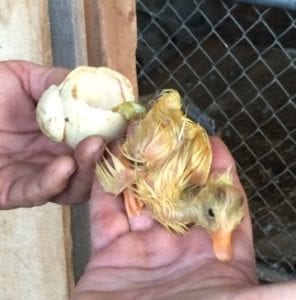 Talk about a tight fit!
We've enjoyed the whole adventure (or misadventure)  of having Indian Runner ducks on the farm this summer – We kept 4 of the largest ducklings for our guests to visit this fall, and sadly, sent Momma with 5 remaining eggs and all the rest of the babies home with Bobby Morris, who loaned us the animals for this whole experience. Last night as I turned them outside to find their swimming pool, one went AWOL and Gary and I spent the next half hour coercing the wayward one back to the rest of the brood. (Glad there's no video of that!)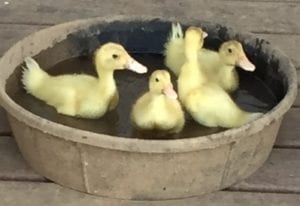 Babies are just SO cute!