COVID Farm Safety Policy
No doubt about it friends, the fall season is a great time for making family memories. Here at the farm, we want everyone to feel safe while they're here. In accordance with CDC, local and state guidelines, we have a few guidelines so you can "play safe" here at the farm.
Our employees will pass a health screening and health check EVERY day they work.
We have rigorous cleaning and sanitizing methods before, during, and after closing in place here at the farm to be as safe as possible.
If you're not feeling well, please plan to visit us at another time.
If you have tested positive, or have been exposed to Covid, please stay home.
We ask that you practice 6-foot social distancing around the farm.
In areas where you can't socially distance, wear a mask. Masks or face shields will be required when you purchase tickets, when you are in the country store, and when you are on wagon rides.
We have located hand sanitizer stations around the farm. Please use them. We have hand wash stations in place as always. Washing hands is the best prevention, as we are told.
We have over 60 acres we dedicate to Back Home on the Farm. As fall season nears, we will keep you updated on capacity limits. Check our extended hours and consider weekday visits if you prefer to be around fewer guests. We'll gladly answer any questions about size of the crowd if you give us a call.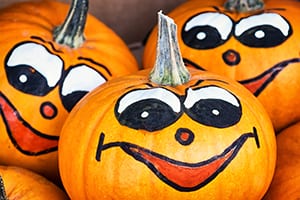 Message from the Farmers
Folks, we know there's a debate about how effective masks may be and who has the authority to mandate when/where masks are required. Respectfully, we do not want to argue the point. Our pumpkins, however, have said that they prefer for you to shop elsewhere if you do not want to wear a mask according to Back Home on the Farm's simple requirements. By visiting Back Home on the Farm, you voluntarily assume all risks related to exposure to COVID-19.