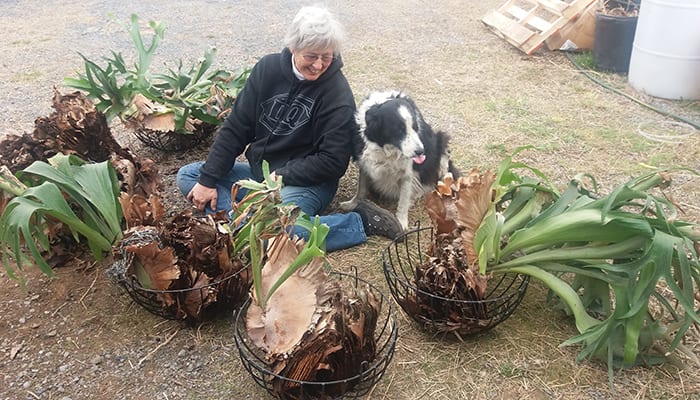 I need help my friends.  I'm looking for a plant owner.  Years ago when we were at the farmer's market location on Rt. 11, a retired JMU professor came in to ask that I care for his 50+ year old Staghorn Fern. I'm hoping you can help me find him.
The Staghorn was a gift from his father when it was but a single "pup", mounted on a small mesh wire cage. He had kept it for years, but he found that when he retired he was traveling quite a bit.  He feared that he would come home from his travels and find his dear plant had not survived during his absence.
I took it in and was amazed to see it nearly double in size that first year.  It loved the greenhouse environment. The professor visited from time to time to check on it, but I lost track of this gentleman when we moved out to the farm. The fern now spends it summers out under the oak tree and has continued to thrive.
The fern has gotten so big that we had to break it apart and divide it this year.  In its greatest glory, it had grown to over 8 feet across and we could not longer get it through the door of the greenhouse.
So if you know of this retired JMU professor, or any of his family, please have him contact me.  I want him to know that his father's legacy is alive and well.  When we divided it, we even found remnants of his dad's tiny wire cage, buried in years of fern shields that made this plant so massive. My personal e-mail is lynnehghouse@aol.com.