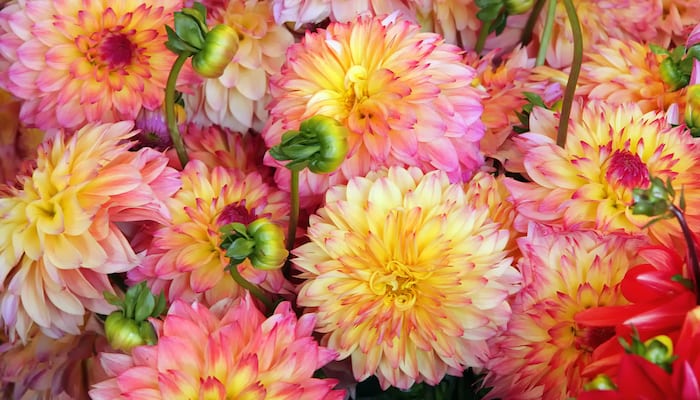 Carnations in Germany…
The carnation is the customary Mother's Day (or 'Muttertag') flower in Germany. As in the U.S. and Canada, colorful carnations are worn to celebrate mothers who are still alive while white carnations are worn to honor mothers who have passed. Mother's Day was originally implemented in Germany as a way to encourage women to have more children at a time when the country had a low birth rate. In the 1930s, women were honored for having children with gold, silver and bronze medals called 'Karnickelorden' ('Order of the Rabbit'). This custom ended after WWII and the holiday became more or less what it is in the U.S. today.
Daffodils in Scotland…
For Mother's Day (or Mothering Sunday), mothers are given daffodils and other spring flowers that are in bloom. Mothering Sunday originated back in the 16th century when youngsters left their homes to enter the workforce. Mother's Day gave them the opportunity to return home once a year to attend church with their family and spend time with their mothers.
Roses in Japan…
Although all western customs were banned in Japan during WWII, Mother's Day has made a comeback and carnations and roses are the country's traditional Mother's Day flowers. Carnations represent endurance, sweetness, and purity while roses symbolize love, devotion, and honor. Japanese children often draw pictures of their mothers and enter them into contests!
'Mums' in Australia…
Chrysanthemums ('mums' for short) are in season in Australia during Mother's Day and, as a result, are specially presented to Mum. Aussie children pamper Mum throughout the day starting with morning tea, doing all of the housework, and showering her with gifts. Lucky ladies!
'Laurki' in Poland…
Children in Poland honor their mothers with 'laurki', sheets of paper decorated with beautiful flowers. A special wish for Mom is written inside. As Mother's Day is an official holiday in Poland, all businesses and shops close down for the celebrations and families enjoy festivities at home.
Need beautiful flowers for your Mom? Visit the Greenhouse for oodles of gorgeous goodies!