In This Section: Fall Field Trips | Home Schoolers | Teaching Resources | Reservations
Spring is an exciting season on the farm with lots to see, do and learn!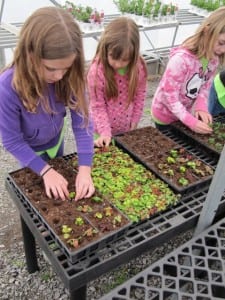 Teachers, we have a wonderful spring program planned.  It's designed to help students achieve high standards of learning!  When you visit, you will tour several learning stations where we teach students about life on the farm!
Students will meet and learn about many of our animals from Spike (the donkey) and Velvet (the horse) — to the lovable bunnies and high-spirited goats!
Well will teach students how to plant flowers and vegetables while explaining what helps these things grow.
Have you ever tried to grow a hamburger? Back Home on the Farm we're going to do just that!
Come see us to find out just what that means!
Students- $5.50    Teachers – Free     Chaperones – Free
(We recommend 1 Chaperone per 3-4 students)
* Fees and Rules will change for the Fall Season. Please see Fall Field Trips for more information