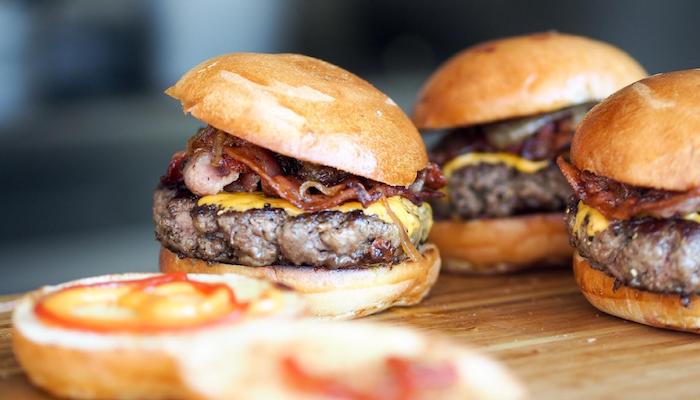 Craving a burger, but want a hardier alternative? Try this flavorful soup!
½ lb. ground beef
¾ c. chopped onion
¾ c. shredded carrots
¾ c. diced celery
1 tsp. dried basil (can use fresh)
1 tsp. dried parsley flakes
4 Tablespoons butter or margarine, divided
3 cups chicken broth
4 cups diced, peeled potatoes (1 ¾ lb.)
¼ c. all purpose flour
8 oz. processed American cheese, cubed (2 cups)
1 ½ cu. milk, heated
¾ tsp. salt
¼ to ½ tsp. pepper
¼ cu. sour cream
In a 3 quart saucepan, brown beef; drain and set aside. In the same saucepan, sauté onion, carrots, celery, basil and parsley in 1 tablespoon butter until vegetables are tender, about 10 minutes. Add broth, potatoes, and beef; bring to a boil.  Reduce heat; cover and simmer for 0-12 minutes or until potatoes are tender.
Meanwhile, in a small skillet, melt remaining butter. Add flour, cook and stir for 3 to 5 minutes or until bubbly. Add to soup; bring to a boil.  Cook and stir for 2 minutes.  Reduce heat to low. Add cheese, warmed milk, salt and pepper; cook and stir until cheese melts. Remove from heat.  Blend in sour cream. Enjoy!
Visit us on Pinterest for more hardy recipes!